10 Reasons Why Smartphones Can Benefit your Charity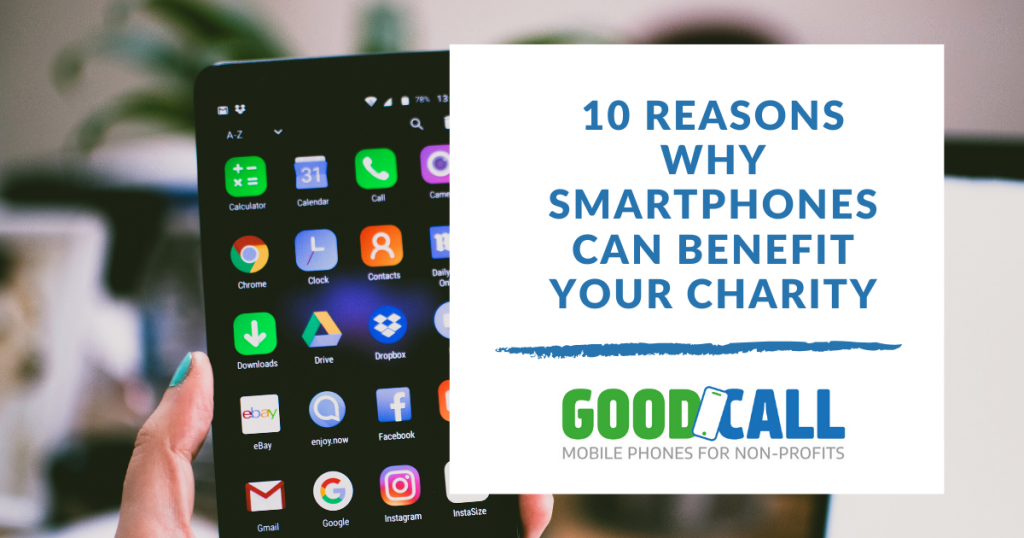 Smartphone ownership is only set to grow in the UK, with a predicted 92% ownership by 2023. If your organisation is looking to engage both new and current supporters of your charity in useful and interesting ways, then it is really worth considering the impact that mobile devices could have on your organisation.
Smartphones now make up 30% of the three billion mobile devices worldwide, and users spend over 50% of time on their phone on social media and apps.
So, how can charities make use of the amazing  technology that is the modern smartphone? Here are 10 great reasons why smartphones can benefit your charity.
1. Raise Awareness of Your Cause
You have an easy, free and accessible platform to shout about your cause – right in your pocket! Non-profits should take advantage of how easy and accessible it is to get the word out by optimizing the ways they use their mobile social media platforms. You can automate your digital marketing with social media platform management apps such as Hootsuite and Buffer. You can create a targeted email marketing campaign with Mailchimp or Convertkit. You can whip up new campaign graphics with free image editor and creation software like Canva.
Apps like Ritetag make it easy to track the performance of your campaign hashtags across social media. Creating great original content for your website is a fantastic idea – by writing about things that you are invested in, you can continue to boost your organisation and write as an expert in your field, which helps raise awareness about your mission and engages others in your unique story
2. Increased Opportunities for Communication and Flexible Working
Going mobile makes it easier for your team and volunteers to communicate on the go. Mobiles can offer flexibility that can help you meet the needs of your beneficiaries.
Flexible and mobile working is increasingly becoming the norm, rather than the exception and can help boost your organisation's recruitment and retention efforts.
Lone working in the voluntary sector is commonplace particularly when working with the most vulnerable people in communities. Whether your lone workers are paid staff or volunteers, your team can reap the benefits of mobile. Devices and apps are also a great way to keep track of your team and make sure they are safe. They can also feature a 'panic' button that allows a volunteer to summon help quickly and discreetly.
3. Connect with supporters
The vast majority of your supporters will actually search for and find your organisation's website through the web browser on their mobile device. Making sure your website is optimised for mobile makes it even easier for potential supporters to find you. Google even prioritises sites that are mobile-friendly in its search listings – so not only is this great for visitors but great for visibility!
Messaging, whether it is through SMS, Whatsapp, or even Facebook Messenger, lets you have conversations with your supporters in real-time, without having to meet face-to-face. That means being able to communicate within your teams quickly and easily
You most likely will want to share your campaign success with your supporters. Using social media to 'shout' about your latest work is an easy and free way to communicate your impact.
4. Develop an App
Apps can be used for anything you can think of – from automating event tickets to hosting a local forum for youth mental health. They may also help your beneficiaries or service users access information about your services quickly and easily all on one device. While development of an app has historically been considered time-consuming and with a significant price tag, it's now easier than ever to create an app for your organisation no matter its size. There are many opensource and free resources to help your charity develop a mobile application.
Apps are offering new ways of connecting with the causes the public care about. The United Nations' World Food Programme debuted its app, ShareTheMeal which allows smartphone users to donate meals to Syrian refugee children and young people. Since its launch, more than 330,000 people have downloaded the app and donated enough funds to provide about 3.3 million meals.
5. Build a Community
There are a whole range of apps and online communities that want to help the public connect with non-profits. You can create dedicated online groups that help them interact with your cause. Use apps like Hivebrite and Slack to moderate discussions on issues that mean the most to you and your supporters. There are also spaces for skill building, sharing expertise and new ideas with likeminded charity professionals – all while on the go. Examples of this include Charity Connect, LinkedIn and the multitude of charity-focused Whatsapp groups. Apps like Do-it can help your organisation access a pool of new volunteers and Neighbourly helps the public find volunteer projects in their local area.
6. Coordinate Events and Campaigns that Reach Decision Makers
Using mobile social media, your latest campaign could be visible to board members, volunteers, recurrent donors and vocal community advocates. It's also easier than ever to connect with decision makers such as local government representatives via social media and email.
One charity that successfully reached decision makers using mobile is Tearfund. Its Superbadger app introduces a fun game element to social media campaigning by encouraging Facebook users to send pre-written emails directly to politicians. The campaign specifically targeted those who make decisions that impact people living in poverty – by 'badgering' those in power. The more badgering users do, the more points users earn, and they are offered fun rewards like free t-shirts and are visible on a leader board.
7. Try Mobile Fundraising and Text-To-Donate
Mobile fundraising is making it even easier for people to connect with the causes they love. Mobile fundraising platforms offer a wide range of ways to give – from a one-off donation, monthly subscription or even crowd funding with tiered rewards for supporters. As many organisations don't yet have mobile responsive websites, you'll be ahead of the pack by making it easier than ever for your donors to contribute.
The most well-known mobile donation method is through text-to-give (TTG) and it has been one of the most successful ways that funds have been raised quickly and efficiently particularly for international aid and disaster relief. This method is considered highly effective as TTG donations are almost instantaneous and are often limited to a set amount which is usually small.
Charities are already developing new ways to donate – Barclaycard ran a four-month trial in September 2016 with major charities including Barnardo's, Oxfam and the Royal British Legion in trialling contactless mobile payment donation boxes.
8. Engage with New Demographics
Young people and Gen Z are more likely to engage with non-profits via their mobile phone. New social media platforms such as TikTok are providing new ways to connect – it has emerged as the leading destination for short-form mobile video. Charity hashtag challenges have proved themselves to be massively popular – the United Nations created the #DanceForChange hashtag challenge which inspired 33,000 user created videos and generated over 81 million views
The Brain Tumour Charity released a series of silly but serious Snapchat filters showing the symptoms of a brain tumour and encouraging people to visit their GPs. This life saving idea was really popular with a young audience. Using mobile to engage young supporters could prove an effective way to highlight your cause.
9. Access Thousands of Resources for Non-Profits
There are so many free non-profit resources that can be accessed through your mobile device. You can whip up new campaign graphics with free image editor and creation software like Canva and manage your social media campaigns with Buffer. Coordinate your team with Whatsapp or livestream your latest event with Facebook Live or Periscope.
You can access opportunities for free digital training and skill swapping through apps like MeetUp and Skillshare that let you learn anything from anyone!
10. Provide Real-Time Support to the People Who Need You Most
Increasingly, charities are offering 24/7 mobile and text messenger support services that offer help in times of crisis. This include the charity text service Shout and The Mix's Crisis Messenger. They work to connect every texter with a trained volunteer in under 5 minutes to provide emotional support. They say their users were more comfortable texting than speaking over the phone. Live Fear Free Wales, a domestic abuse support organisation offer 24hr confidential support via their text line. Utilising mobile means that the unique needs of vulnerable groups can be met all while remaining discreet and helping retain their privacy and safety.
If you'd like to know more about how smartphones can benefit your non-profit organisation, get in touch with the GoodCall team today or fill out an enquiry form and we will be back in touch very soon.