7 Smart Ways to Tell the World About Your Charity, Using Your Mobile Phone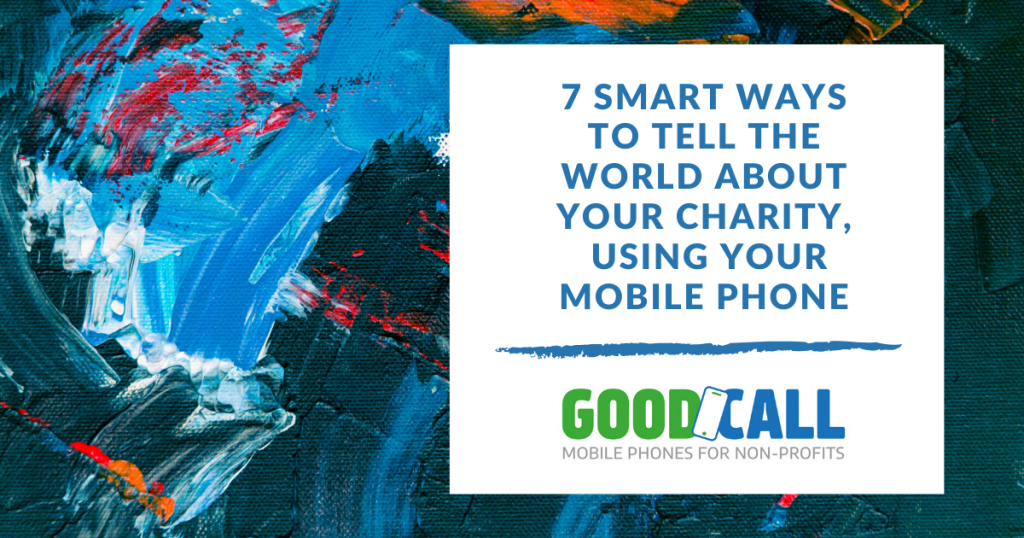 7 Smart Ways to Tell the World about Your Charity, Using Your Mobile Phone
Many charities want to raise awareness of their cause. However, with so many channels for promotion can often be confusing, costly and overwhelming. They know they need to be doing it, but all the different types of marketing and approaches can make it a challenge when relying on volunteered time, limited funds and resources. And then there's the cost!
Did you know that there are loads of ways you can promote your organisation for free – all from the comfort of your mobile phone? Fortunately, there have been amazing advances in smartphone capabilities which are making it simpler to promote your charity – from the device right in your pocket.
Your charity can save loads of time by using them and it can make working even easier on the go. Here's GoodCall's roundup of 7 smart ways to tell the world about your charity from your mobile phone:
1. Coordinate your social media efforts
Buffer is a fantastic way to manage all your charity's social media channels all from the comfort of your mobile phone. Buffer helps charities plan, collaborate and publish content that can help drive meaningful engagement and raise awareness of your cause. Save time and hassle by planning campaigns and scheduling social media content in advance with Buffer. It also offers helpful analysis of your content to help you see the most popular types of content you are producing and identify posts with the greatest reach.
2. Plan your next awareness raising campaign
Trello is a great free project management app that allows you to create boards, lists and cards that share details about projects and upcoming tasks with members of your team. It can also be used to coordinate your volunteers or create a scheduled social media content calendar, map out your next campaign or log details of your latest events. It is total customisable and allows you to keep track of multiple projects. They also offer free templates to kick start your next campaign, event or volunteer calendar.
3. Build a mailing list
Mailchimp is a great way that you can manage your email marketing campaigns from the comfort of your phone. Emails have the advantage of targeting potential supporters directly through updates, newsletters and information that is tailored to them. Mailchimp allows you to build audiences and split your lists into groups based on your unique needs. It allows you to design and create high-quality email templates with your charity's branding.
4. Make it easier than ever for supporters to give
GiveLively is a completely free forever app and desktop platform that offers everything from custom donation buttons, event ticketing, fundraising pages, text-to-give and peer-to-peer fundraising solutions for non-profits. The software is completely free for charities and can all be
managed from the GiveLively mobile app! Engage your fundraisers through this app with helps manage relationships with existing donors and helps you identify new ones.
5. Create a mobile donation point
UK charities can now turn almost anything into a mobile donation point using mobile technology. Good Thyngs has designed QR codes for charities that can be added to added to more traditional posters, leaflets, stickers, staff and volunteer badges which can be scanned with a phone and an instant donation is made. However, now any object or surface can be turned into a mobile donation point – everything from lampposts to t-shirts – the only limit is your imagination!
6. Take advantage of free advertising
Google Adwords can get your next event or service discovered by people searching for the cause you're supporting in Google Search. Google Adwords for Charities offers grants and other completely free advertising credit up to the value of $10,000 per month. Google Ads can help you reach a wider audience, raise awareness of key issues and help you find new donors through SEO and per-click adverts.
7. Design and print anything, anywhere
It's now easier than ever to design and print branded fliers, posters, banners and leaflets for your charity – even while on the go. Canva offers a completely free design and printing service that can take you from an idea to receiving your design – all from your mobile device.
Canva's drag-and-drop tools and library of free photos and images can be a massive asset to charities hoping to create professional and attractive designs. You can even access all your designs from your library and create a Brand Asset Toolkit that includes key fonts, colours and elements to make your printed materials cohesive.
If you'd like to find out more about GoodCall's affordable mobile solutions for charities, get in touch with us now.