Meet the Team – Caroline McKenna, Director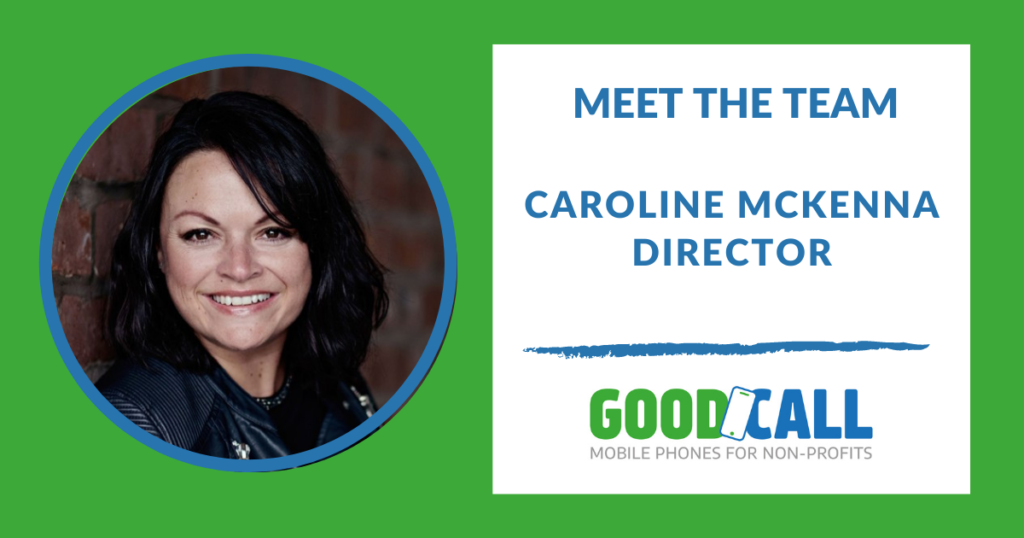 What do you do at GoodCall?
I am a Director of the Community Interest Company GoodCall. My background in financial services coupled  with my non-profit experience puts me in a unique position to support organisations to reach their full potential. From my experience of running a charitable organisation I know how difficult it can be to find good, trusted suppliers to support you and help you and give you the right kind of advice – that's where GoodCall comes in.
What do you enjoy most about working at GoodCall?
I love knowing that the technology we provide helps charities stay connected and deliver vital services in their communities. Our small team has really taken GoodCall from idea to reality – and GoodCall's support in making technology accessible for all organisations is the most significant impact we have had. Communications technology is vital to the work of any organisation –  when we collaborate, we try to draw on expertise that helps us address digital skills gaps and create mutually beneficial partnerships.
There's also an obligation and accountability in how funds are used – particularly when this is reliant on public funding, donations and voluntary action. GoodCall makes securing communications for charitable organisations easy – I know how stressful it is when you are juggling other people's donations and you want to do the right thing with greatest return on investment for your beneficiaries.
Why are GoodCall's values important to you?
As an organisation that puts charities first, it's really important that we provide opportunities for partnership and collaboration. We believe that the whole third sector can become stronger when organisations and communities are presented with more opportunities to work together to tackle shared issues. One of the major issues we hope to address this year is digital inclusion.
I think it's become even more apparent in the last 12 months that technology is so deeply linked to our ability to access support and services. The major social impact of GoodCall's work has been facilitating access to technology to allow them to stay connected.
The coronavirus crisis is having a huge impact on mental health, particularly that of young people who may have to stay isolated in an unsafe or unsupported environment. Digital exclusion means they may not have access to the internet to stay connected with friends, school, healthcare and other support systems, and the fact that we can help change that is inspiring.
Why do you think a charity should choose to work with GoodCall?
We are a pioneering social enterprise who is not afraid to do things differently to support charitable organisations. We are a purpose led organisation and this strongly aligns with the ethos of the charities we hope to reach. Our knowledge and experience gives us a real understanding of the issues and barriers that charities face when procuring technology. We want to be a trusted partner – we're not just here to sign up mobile phone deals, we're here to give you support, to help, to add value. . Whether that's supplier questions, technical issues or contract advice – we're here to support.
What are your hopes for the future of GoodCall?
I hope that GoodCall can continue to grow and make connections with third sector organisations. We are also building  our capacity to grow the team… to allow us to be seen as a trusted supplier and partner – the go-to mobile supplier for the third sector.
I hope we can help contribute to a world where no charity must worry about the cost of their mobile phones or understanding technology. We have a holistic approach to connecting with other organisations and we are always very keen for new opportunities to learn and grow.
What are your passions and hobbies?
I love helping third sector organisations reach their full potential. With my own business  Social Good Connect –  we connect employer and their employees to volunteering opportunities in order to positively impact communities . You can check it out here: www.socialgoodconnect.org
I currently sit on the board of three non-profit organisations – Good Call, Dundee University, School of Business and U-evolve a  youth mental health charity.
____________________________________
If you would like to find out more about GoodCall, our team, and our work then make sure you never miss an update, sign up to our newsletter below or get in touch here.