Why Tech Limitations Are Still a Challenge for Charities in 2020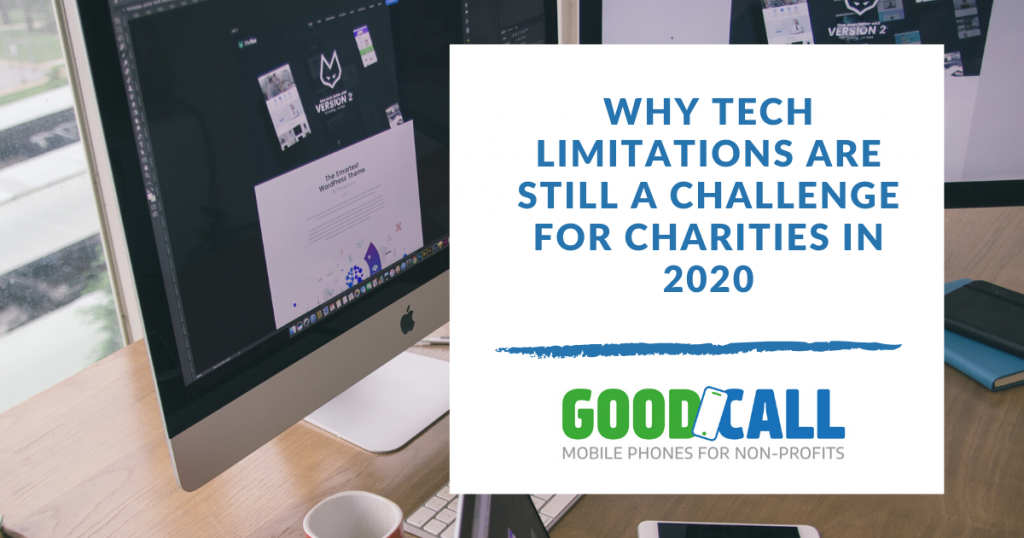 Our use of technology is advancing every day – this means that the way people live and work is changing rapidly. For charities, technology presents opportunities to contribute vital research and support their causes – but two new studies show that it also creates a whole host of challenges in the race to deliver 'digital transformation'. In December 2019, Charity Bank's State of the Sector report found that 57% of charity respondents see technology limitations as a significant challenge as we move into the next decade. Charity leaders see advancements in technology as a double edged sword – nearly all believe that while new technology will help them to innovate and find new ways to do good, 73% of respondents felt that that technology will fundamentally change the nature of issues that charities work to address.
For charity decision makers, embracing digital technology meant increasing their relevance and reach, at a turning point where more and more people choose to manage their lives digitally. The decision makers felt that they must engage with technology to 'keep pace' with new agile ways of working and for staff and volunteers who increasingly use their mobile phone to access information and services.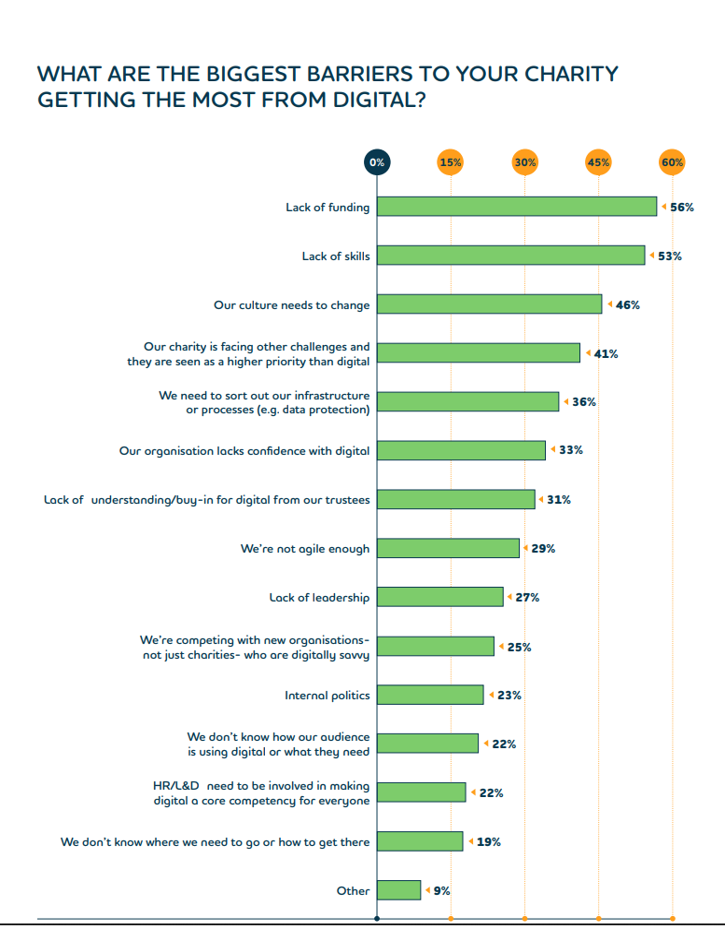 Funding remains the single biggest challenge for charities attempting to incorporate digital – however a lack of skills and a challenging internal culture remain the second largest barriers. 33% also recognise a lack of confidence in their tech abilities which then leads to a lack of trustee understanding and buy-in.
While the importance of embracing digital is recognised – fewer than 45% have a wider strategy for dealing with technological change. For small charities with less resources, this figure drops to only 38%. While these limitations are crucial, it has been identified that there are more opportunities than ever to use digital to deliver their missions more effectively.
Looking to the future
It's clear that charities recognise the opportunities the digital revolution will continue to bring, not only from an operational standpoint – but ultimately for their service users and beneficiaries. These studies concluded that it's critical that charities should be included in the debate. They act as an advocate for some of the most vulnerable people in society. They have a key role in ensuring new tech is developed and implemented ethically and for wider societal good.
These studies recommend that charities should rigorously assess the role of digital in their organisations and position passionate leaders at the forefront – to help bridge the knowledge and skills gap that charities are evidently experiencing.
While developing capacity is a key concern, investing in workplace tech remains a key priority for charities, 87% having done so previously or planning to do so in 2020. Whilst 59% feel they are using social media effectively, only 29% felt they were using new technology effectively to increase giving. Nearly all charity leaders continue to place value on their social media presence. 95% have already increased or plan to increase social media presence, activities and campaigns as mobile devices play a key role in the way that supporters engage with causes they care about.
At GoodCall we believe there is significant scope for greater cooperation and dialogue between technology and telecoms suppliers and the charity sector. By working together, we can deliver tech solutions that meet the needs of everyone. We hope that these reports will encourage charities to embrace and develop their digital skills in the year ahead and will inspire more charities to 'buy social' and work with social enterprises that are delivering impact in their communities.
Access the full reports using the links below:
Charity Landscape: https://www.cafonline.org/about-us/publications/2019-publications/charity-landscape-2019
State of the Sector 2019:  https://go.charitybank.org/uk-social-sector-report-2019
If you'd like to find out more about GoodCall's affordable mobile solutions for charities, get in touch with us now