#EndDigitalPovertyDay – Why GoodCall thinks mobile phones are at the heart of digital inclusion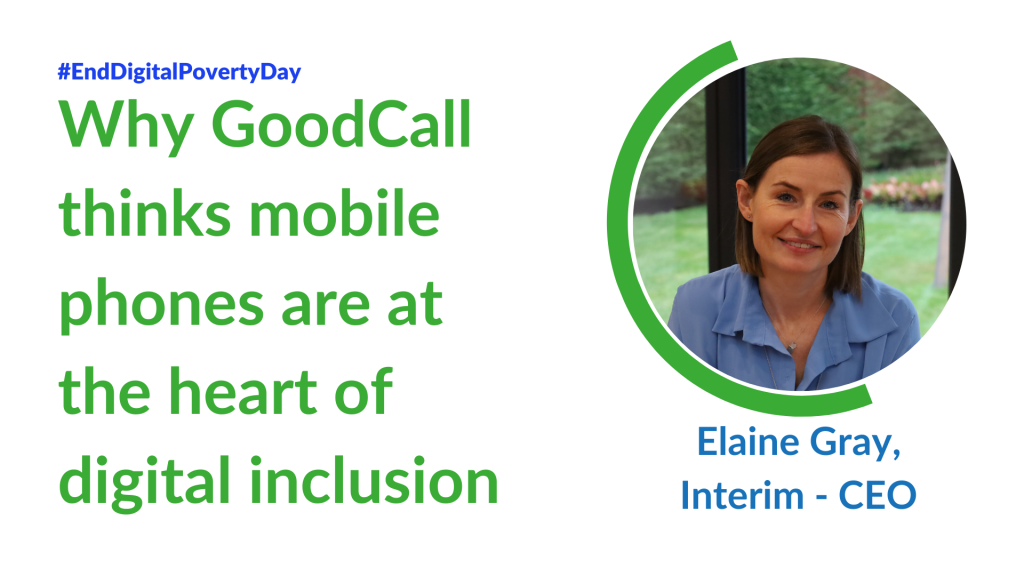 In our rapidly evolving digital age, access to the internet has become synonymous with access to opportunities. From education to employment, healthcare to entertainment, the online world has opened up a myriad of possibilities for people around the globe. However, not everyone has been able to reap the benefits of this digital revolution. Digital poverty, or the lack of access to the internet and digital devices, remains a pressing issue that affects millions of individuals worldwide. On #EndDigitalPovertyDay, it's crucial to highlight the role of mobile phones in combating this issue and promoting digital inclusion.
Digital poverty is a multifaceted problem that encompasses both the lack of internet connectivity and the absence of suitable digital devices. According to a report by the International Telecommunication Union (ITU), nearly half of the world's population still lacks access to the internet. This digital divide is particularly pronounced in Least Developed Countries, or LDCs, where many struggle to access even basic online resources.
Moreover, digital poverty extends beyond mere access to the internet. Without access to suitable devices, individuals are unable to take advantage of online opportunities. This includes accessing educational materials, applying for jobs, accessing healthcare information, and connecting with loved ones.
Why GoodCall exists
How GoodCall came to be was through a collaboration between the homeless charity Cyrenians and Colin Loveday, founder of GoodCall. Colin believed that non-profits shouldn't be sourcing their hardware from for-profit companies. "He realized that there was gap in the market, where many charities, community groups and other non-profit organizations are looking for accessible tech but are paying a huge premium for a generic package that doesn't suit their needs. Smaller and local non-profits are always operating with a slim budget, so they don't have the luxury to spend thousands of pounds on resources that they rarely ever use, but they also know that they can't be left behind; mobile phones are becoming a necessity every year, and they are stuck with options that won't benefit them in the long run" says Elaine Gray, Charity Engagement Manager and Interim – CEO. GoodCall was founded on the principle of digital equality; fair and accessible access to technology for all. Since 2019, GoodCall has saved hundreds of thousands of pounds for charities by creating tailored-made contracts exclusively on behalf of non-profits in the UK. Elaine continues, "Part of what we do is analyze any existing bills and mobile setups from charities; we've discovered that many charities only use 50 to 60 percent of what their previous contract offers, not because they are failing to take advantage of it, but because they either take a lower contract offering that doesn't cover all their needs, or the next package offering that's overly abundant and just as expensive. There is no middle ground. Those funds that are being used for unused resources could go to their vital frontline services, and that's where we come in." Another element is support. Elaine explains, "But we don't stop there, we don't want to just hand any non-profit a cheaper phone deal and expect them to be fully okay. We'll support them as long as they need it, so if they face any issues, we do the best we can to solve any problems and let them continue to serve their communities."
The Current Climate
While GoodCall continues to support non-profits well into 2023, reports and surveys paint a clear picture on where digital is heading. According to research, nearly three-quarters of the world's population own a mobile phone, but 2.7 billion people remain offline. "Since mobile phones are the easiest way to get connected, especially in low-income countries where citizens can't get access to both a laptop and a mobile phone, it's becoming increasingly apparent that smartphones will become the device that everyone owns", says Elaine. "A recent report named Charity Digital Skills Report 2023, led by Zoe Amar Digital, provides the GoodCall team with a benchmark of understanding the progress of digital inclusion in the non-profit sector." Some positive results include increased confidence in remote working, 34% of charities say that their IT provision is good and well managed, and a slight increase in charities with excellent basic digital skills at 64%, rising from 58% from 2022's survey results. "What we see is that the more you deliver accessible technology to those that need it, the better they become at understanding its use." However, there is some increasingly worrying data that shows that the largest challenge for charities, according to the report, is funding. Elaine further elaborates, "What we see often when we receive enquiries, is that many smaller teams are looking for a free mobile phone. While we don't offer free mobile devices, we still do keep a look out for other available resources from other non-profits that can help those in need. But it is something that we pay attention to, and one of our largest concerns is a surge of demand for free phones as it indicates the economic situation is worsening." Overall, there is clear data that shows that there is a long way to go in the battle for digital inclusion for the non-profit sector in the UK, and the rest of the world.
Conclusion
In conclusion, digital inclusion is a pressing global issue, and mobile phones are a vital tool in the fight against digital poverty. Elaine comments, "On #EndDigitalPovertyDay, we must recognize the importance of mobile devices as a means to bridge the digital divide. By focusing on affordability, accessibility, and education, we can harness the potential of mobile phones to empower individuals, strengthen communities, and create a more equitable digital future for all of us."
To learn more about the organizers of today's important cause, and their agenda to reduce digital poverty by 2030, please visit: https://digitalpovertyalliance.org/