Meet the Team – Elaine Gray, Charity Engagement Manager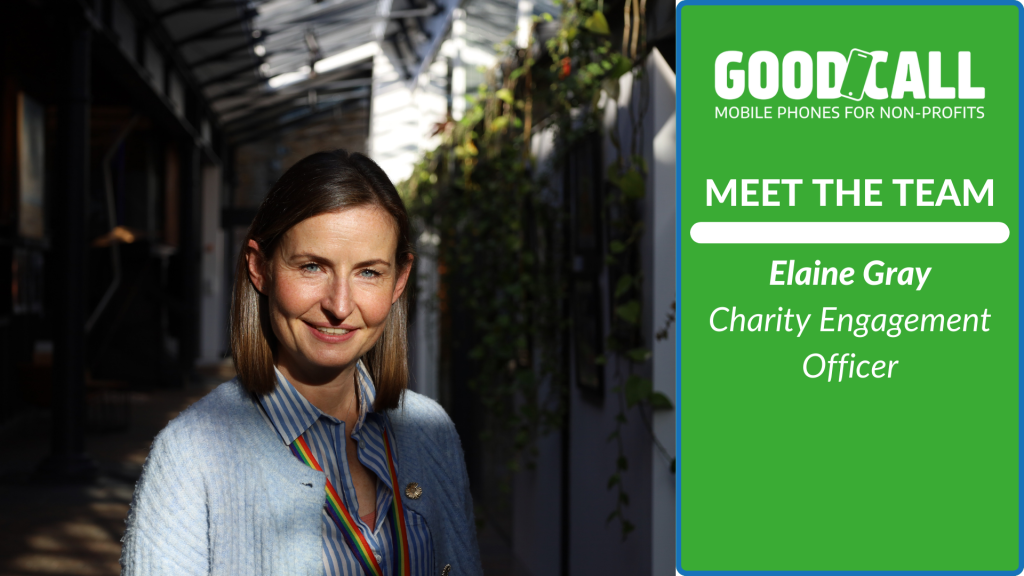 What is your name and current role in GoodCall?
Hi, my name is Elaine Gray, and I am the Charity Engagement Manager at GoodCall.
Where are you specifically from?
I am born and bred from Dundee, I currently live in Carnoustie with my husband and 2 young boys. I lived in and around England for 10 years after I finished University before moving back home to be with family!
Do you have higher qualifications and if yes, what is your degree and where did you study?
I have a BA Hons in Bachelor of Arts degree in Media and Communication Studies from Edinburgh Queen Margaret University, Edinburgh. I also have a Level 5 CIPD qualification in HR.
Before joining GoodCall, what other jobs have you worked?
After my degree I worked within the Health & Fitness Industry which, led me to becoming a Regional Sales Manager for Virgin Active Health Clubs in England. I spent 10 years honing my skills within sales and marketing. I also completed my train the trainer course while working for Virgin so I could pass on my skills to other members of the team. When I first moved back to Dundee, I worked within sales for the hotel and leisure industry.
Why did you decide to apply and join GoodCall?
I wanted to find a role that would allow me to work as a mum with 2 young children and to find something meaningful. I spoke with a member of the team that I knew through previous networking opportunities and applied for the job. My role meant I could work while having more time to look after a young family. I could use my background in sales and marketing to help the third sector. I am also proud to be a part of a team that is growing a new Social Enterprise with its own social impact on society.
What do you love the most about what you do?
I love to bring a new organisation on board, hear their story, mission, and impact that they have on society.  I love to be able to go back to them with a quote that enables them to communicate and run their services at an affordable price. I also love to be involved in the organisations projects that make an impact to their community.
What do you value the most?
Honesty, it is a facet of moral character that connotes positive and virtuous attributes such as integrity, truthfulness, and straightforwardness. Honesty also involves trustworthy, loyal, and fair traits, which is how individuals within the third sector environment perform within their roles. It is also a barrier that we try to break down between the third sector and the mobile phone networks.
What are you most looking forward to in GoodCall's future?
To see GoodCall continue to support charities and not for profits and expand their services to the thousands of organisations that may need us. To expand the GoodCall team and give those that are further from the job market an opportunity to work for a great cause with flexible working hours.
What is your favourite thing to do during your free time?
After working in a hectic environment with long hours I enjoy being able to take my children to their activities and to see them grow. When I am not playing mum, I do live by a work hard, play hard moto. I enjoy keeping fit as this has always been a passion of mine, however, I also enjoy socialising with friends and family with some good food and Gin!!
How do you feel about being a part of UK's only social enterprise that supplies mobile technology to third sector?
Supplying the tools necessary for the operational integrity of the organisations we support brings a great sense of accomplishment in my role in GoodCall. Seeing the positive impacts that the hardware we deliver change the way they work, combined with its affordability, means that not only have they gained the benefits of digital inclusion but also distribution of extra funds made available from our cost-effective contracts further reinforces how happy I am to be here!
Out of our 3 social outcomes, which is the most important to you?
Creating employability opportunities for those further from the job market. I was in a situation where I had developed a good career, but it did not support my health or my family. It was hard to find something that would support a mum with young children. However, GoodCall allowed me to develop my role so it could suit the needs of the organisation and my home life. I was asked in my interview "What hours would suit? Would you like to be able to take your kids to school and pick them up?" I had never been asked that before, that's when I knew I was making the right decision. I want to be able to make the same impact with new members in our team.