Meet the Team – Elaine Gray, Charity Engagement Manager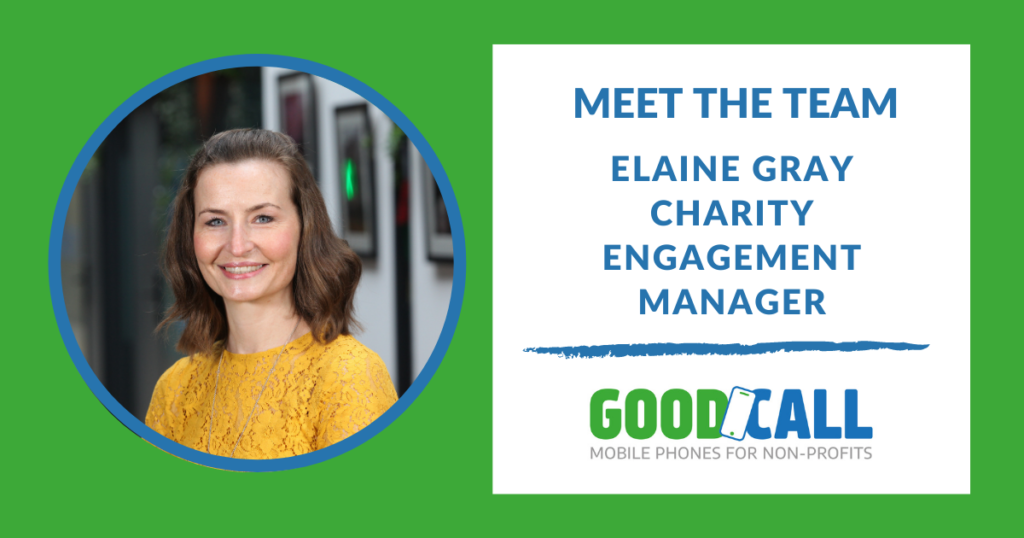 What do you do at GoodCall?
I am the Charity Engagement Manager at GoodCall and I build relationships with the charities and social enterprises we support to create personalised mobile solutions. I also crunch the numbers and develop the most effective packages to suit the needs of our third sector organisations, as well as managing the day-to-day tasks that come along with mobile, ensuring that our customers have the best experience possible.
What do you enjoy most about working at GoodCall?
I think building relationships is such an important aspect of my job and I love being able to develop connectivity for the third sector. I love seeing the impact of our work and positive outcomes that access to the right technology can bring for an organisation – ultimately helping charities reach their goals.
During the pandemic, having the ability to pick up the phone and speak to people who are so passionate about the work they do has been very inspiring. Coming from a more corporate background, the drive of our organisations to deliver projects that help communities and some of the most vulnerable people in society is nothing short of amazing. The charities we support work across such a broad range of causes, from youth mental health through to social housing, so there is always a great conversation to be had!
Why are GoodCall's values important to you?
For me, connectivity is at the heart of everything we do! Technology is simply a tool to help us collaborate in new and exciting ways and I think it's fantastic that we can support charities to deliver their impact through technology. Right now it's more vital than ever to ensure that organisations have the right tools they need as well as the right support to find a solution that works for them.
Why do you think an organisation should work with GoodCall?
I think what is great about GoodCall is that we are so much more than just another mobile supplier! We want to overcome that negative bias that the industry has and provide a service that is completely personalised for the third sector, showing that a social enterprise model is the way to provide a solution that works.
You will always be able to pick up the phone and speak to a real human with GoodCall – most likely me! I think the level of care and support we can provide is truly what sets us apart, there is no question too big or too small.
What are your hopes for the future of GoodCall?
I hope that GoodCall can grow to be the supplier of choice for the third sector. I think digital inclusion is such an important aspect of the work that we do, so I hope that we can become source of trusted information and advice for the charities we support.
We are a small but ambitious team and I really believe that the third sector works better when we pull together! Ultimately, we think that the mobile industry can do better when it comes to supporting non-profits, and we are here to pioneer that message and show that mobile technology can help them deliver social impact.
What are your passions or hobbies?
When I am not spending quality time with the family, I love to meet up with friends, enjoy good food and wine. Cooking and trying new dishes is also at the top of the list.  I teach children's swimming lessons in my spare time and I am also passionate about trying to keep myself fit and healthy.
Show us your favourite photo and tell us why you love it.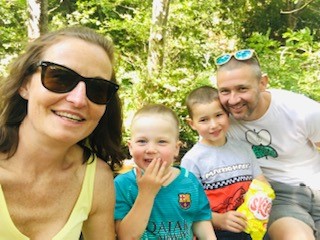 Here's a photo of me and my favourite people – I love this photo because we are together as a family enjoying the sunshine.
If you would like to find out more about GoodCall, our team, and our work then make sure you never miss an update, sign up to our newsletter below or get in touch here.