How Can Charities Overcome Digital Challenges?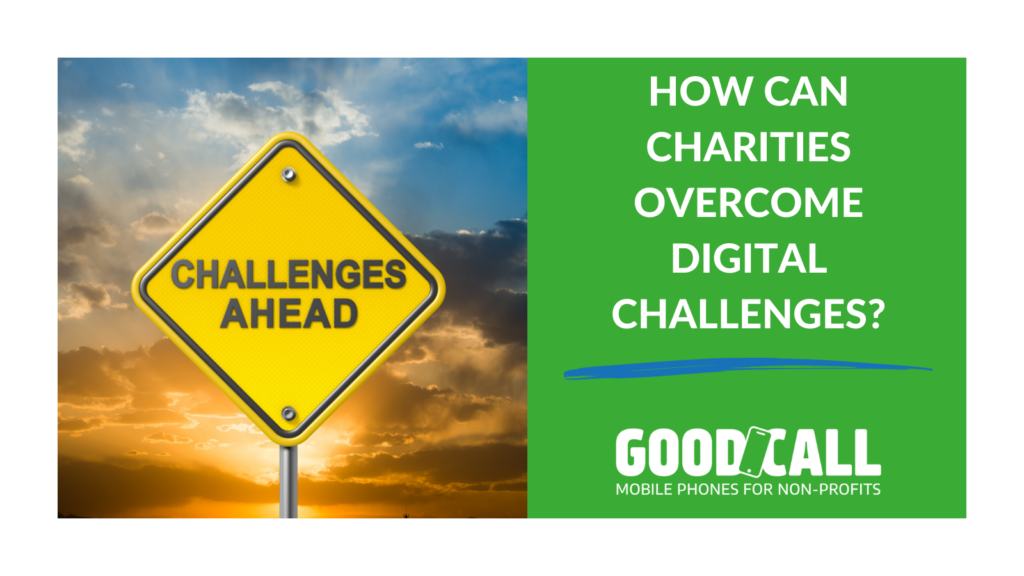 Written by Dakota Murphey
Charities and non-profit organisations (often referred to collectively as the 'third sector') in the UK are integral to many communities and the economy, contributing in excess of £12 billion each year. Despite this, Covid-19 and the subsequent lockdowns completely rocked the industry, and it is still facing an uphill battle to recover, with economists predicting that due to inflation and rising costs of living, donations will depreciate by 8.5%. The continued fallout from the pandemic continues to present the charity sector with many other obstacles, not least the ability to provide services that benefit millions of people.
Digital transformation is arguably the most effective way charities can overcome these digital challenges. It allows organisations to deliver their services in innovative, exciting new ways while maintaining a clear mission statement that adds value to their end users, donors and beneficiaries. Not to mention the fact that technology can be leveraged to free charity directors and their teams from the most repetitive, mundane and manual tasks, boosting productivity and efficiency across an organisation.
Over the next several years, businesses in almost every industry look set to prioritise digital transformation in their strategies. However, even if you are leading a charity or non-profit organisation, you must recognise that this trend is not without risks or 'barriers'. 
In order to overcome the most prevalent digital challenges, you must first identify them and assess how relevant they are to your charity and its vision for the future. From then, you can pinpoint the most effective strategy for overcoming these challenges, whether it's by using technology itself or by finding an alternative solution. Technology is here to stay and is constantly evolving, much faster than humans are, so it's no wonder that the pace of change can feel overwhelming, but awareness is a crucial first step. 
What are the Biggest Digital Challenges Facing Charities in 2023?

Security
One of the biggest challenges facing the charity sector – as well as every other industry – is the growing threat to information security. Data protection and cyber security are vital to all organisations, particularly those that handle sensitive data. All companies need secure systems that are tested and updated regularly, with strict GDPR compliance across the board.
Infrastructure
Remote working and the need for eco-friendly solutions have grown in importance. All organisations need to ensure that they have enough agility to accommodate flexible working and are using the right digital tools to support synchronous and productive working. This IT infrastructure must be able to support the vision and service delivery of every charity, with staff and hardware working diligently to support that.
Budget and Resources
Arguably the most significant issue facing the charity sector is the lack of funding available to invest in enterprise-grade technology or hire skilled staff. This is particularly challenging for smaller and startup charities that comprise approximately 96% of the voluntary sector in the UK, around half of which have an income of less than £10,000 per year, and 80% of which have an income of under £100,000. 
Managing Expectations
Meeting the needs of beneficiaries, donors, trustees, and the board can be a very difficult balancing act for many charities. Many people may express the desire to have donations used in specific ways, which may not always meet the evolving needs of beneficiaries. It can be difficult to set expectations accurately with so many variables at play, hence why numerous business leaders regularly engage a third party for strategic guidance and coaching.
Results
Another prevalent issue is the growing pressure applied on charities to show tangible, measurable results and return on investment (ROI), stemming from community projects, outreach, staff reporting, and events, among other factors. If technology and new systems are tantamount to this, sometimes this can be hard to quantify, leading to the assumption that it is an 'unwanted cost'. 
Skills and Knowledge
There is also a sizeable digital skills gap in the UK, with 72% of businesses desperately needing workers with competencies in tech. Charities have a gargantuan task of finding a sufficient budget to recruit staff – if they can employ at all – much less finding one who is capable of meeting all of their digital requirements from the outset. In addition, there does seem to be a reluctance to embrace technology from many people, which doesn't help.
How Charities Can Overcome the Challenges of Going Digital
All of the challenges listed above can make it incredibly difficult for charities to fully embrace digital transformation. However, it is possible, with the right level of preparation, support and guidance, even for the smallest of charities. The five key tips outlined below will be crucial first steps as you navigate the complex and evolving world of technology.
Develop a Digital Strategy
With ‌the increased demand for digital services comes elevated pressure to deliver them quickly and effectively. Digital transformation provides charities with ways to become more responsive and deliver personalised, innovative services to their users, while also expanding their reach. That's not even withstanding the use of engaging social media and video marketing campaigns to drive awareness, and AI to automate repetitive, time-consuming tasks.
However, all of this technology cannot be harnessed to its fullest potential without a proper, cohesive strategy in place. It's the best way to create a solid foundation for your charity's digital presence, from improving its day-to-day operations and hiring new staff, to fundraising and developing new partnerships. 
A digital strategy will account for new improvements and influences in the sector while setting clear and tangible organisational goals and KPIs, which can be appealing to stakeholders and the board.
Improve Donations
Donations and fundraising are the bread and butter for charities. However, technology can be leveraged to simplify and improve the donor experience. Whether it's hosting online fundraisers or events (which can be a huge cost-saver), or just using technology to streamline the donation journey, you can make it easier for potential donors to donate and do that in greater quantities. 
Secure technology like blockchain makes it easy to monitor transactions from account to account, verified from authenticated sources. This also provides greater visibility for the end user, who can see where their donations have gone while minimising the risk of interception or compromise from a hacker. 
Make Cost-Effective Decisions
Operating in a sector where resources are scarce, stakeholders need convincing, and outside donations are of paramount importance, it can be hard to decide where that hard-earned budget goes. 
Sometimes it's not about going for the cheapest or the most expensive solution but rather making the most out of your limited resources, to make a technological investment that's right for your organisation. It can be easy to think exclusively in the short term, but maintaining a long-term vision is crucial when looking at any digital solution. 
Rather than exclusively looking at the bottom line, it might be prudent to examine what your partner organisations may be doing. As a result, you may need to alter your strategy to stand out in a highly competitive sector. 
Use Technology to its Advantage
Not all digital tools and solutions cost the earth, and some of the most effective solutions can end up saving you plenty of money, time and patience in the long run. 
Whether that initial upfront cost funds an in-house web developer, a marketing strategist, or an outsourced IT consultant, your investment must accomplish several of your current and imminent technology goals. It might not even rely on the involvement of other people at all, and rather on the funding of a new project management system.
Consider what technological obstacles you are currently facing. Is it creating a responsive, engaging website? Is it implementing engaging marketing campaigns? Is it building a strong CRM system for your donors? Is it about building a secure donations portal? 
Ask yourselves these questions to see what is the highest priority for your organisation and address that, because technology is there to help you, not make your life more difficult.
Implement Training and Guidance
Addressing the issues of the skills gap and reluctance to upskill in technology, new systems often influence new ways of working. In other words, employees and volunteers may need to be appropriately upskilled to operate new tools effectively and efficiently. That could involve learning how to use a new payroll system or a new donor database, or anything in between. Furthermore, with the prevalence of remote working, in-person training may not always be required, which can save time and money too.
However, it's important to remember that fundamentally, digital upskilling doesn't always require costly training courses. As it happens, many cost-effective options are available, either through support packages with providers or by experienced third-party consultants.  Many platforms are, luckily, easy to use and offer plenty of online tutorials and step-by-step guides so staff can get to grips with the tools quickly. 
Digital transformation is a milestone for the third sector and is undoubtedly full of obstacles. However, in order to maintain and improve the effectiveness and efficiency of the services they offer to their beneficiaries, charities must embrace technology. Ultimately, over time, technology will need to become a focal point in any organisation, so there is no better time than now to get fully on board with it.
Dakota Murphey is based in the UK. She has more than ten years' experience in eCommerce, Digital Trends, Branding, Cybersecurity and Company Growth. She regularly contributes to a number of authoritative resources online and enjoys sharing her knowledge and experience with other like-minded professionals. Find her on Twitter @Dakota_Murphey or https://www.dakotamurphey.co.uk/